For sales inquiries,
please contact us at:


sales@thecus.com
For marketing inquiries, please contact us at:


marketing@thecus.com
2006-02-22
Thecus N2100 Wins PChome's Editor's Choice

2/22/2006 –In its latest February issue, professional computer magazine PChome reviewed the Thecus YES Box N2100 NAS storage device. After a series of tests, PChome editors were extremely impressed with its rich features, awarding it with their coveted Editor's Choice Award!
Here is PChome's introduction of the YES Box N2100: "There's support for RAID 0, 1, and JBOD modes, and you can set it up with two SATA hard disks for web-based storage. Under RAID 0 and JBOD modes, users can combine both hard disks into one large SATA hard disk, or choose RAID 1 to allow both hard disks to mirror one another, protecting data loss should one hard disk fail."
In addition, the YES Box N2100 also provides several simple and easy-to-use multimedia functions: "The iTunes server function allows the N2100 to share all music contained within it. As long as iTunes is installed, the client computers can access the music. Also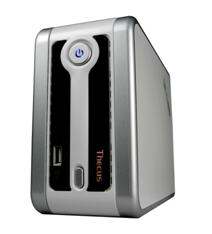 , a web photo album is another of the N2100's multimedia functions. Photography enthusiasts can upload pictures to a specified folder, and immediately share their photos over the web."
Another item of note is the YES Box 2100's quick copy capability: "Simply pressing the quick copy button on the right-hand side of the front panel allows you to have all of the files contained on your storage device copied to the N2100's hard disk."
To read the full review, check out the February 2006 issue of PChome Magazine, p.187.
For more on Thecus Technology, please visit: http://www.thecus.com
---
About Thecus
Thecus® Technology Corp. specializes in IP Storage Server solutions. The company was established in 2004 with the mission to make technology as transparent and easy-to-use as possible, and to make products that are not only the best on the market, but are accessible to experts and novices alike. With a best-in-class R&D team highly experienced in storage hardware and software and with a keen customer focus, Thecus® stays close to the market to develop high-quality products to fulfill the storage needs of today's world.
For more information, please visit the Thecus® website at: http://www.thecus.com
For sales and other inquiries, please contact us via email: sales@thecus.com