For sales inquiries,
please contact us at:


sales@thecus.com
For marketing inquiries, please contact us at:


marketing@thecus.com
2006-02-13
Editors impressed with overall design and ease-of-use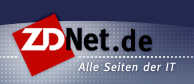 2/13/06 – Since its introduction, the Thecus N4100 has been impressing hardware editors with its robust feature set and overall ease-of-use – an ideal solution for SMBs looking to expand their network storage capabilities quickly and easily. Hardware authority ZDNet recently took close look at the N4100 and came away very impressed.
ZDNet was pleased with how the Thecus N4100 was designed for ease-of-use: "Compared with other NAS manufactures, Thecus offers their NAS box without any HDDs. We are convinced by the design. The administrator can easily open the box without a screwdriver and easily install or exchange the HDDs. Furthermore, the easy to use UI allows the administrator to maintain this box through the web browser. The menu structure is well-organized, similar to the group settings."
ADS support particularly impressed ZDNet editors: "The N4100 supports ADS. This excellent feature can take over the existing domain architectur, which saves the administrator a lot of work. The across control list brings the advantage of different security levels."

The Thecus N4100 IP Storage Appliance
Pros:
Supports 4x SATA HDD

Gigabit Ethernet connection

RAID levels up to RAID 5

ADS integration
Rating (highest: 10points) from users:
Price and performance: 8 points

Service and support: 9 points

Quality: 10 points

Features: 9 points
For the full review, check out: http://www.zdnet.de/enterprise/storage/0,39027626,39139888,00.htm
For more information on the Thecus N4100, check out:
http://www.thecus.com/products_over.php?cid=1&pid=2&PHPSESSID=ec9ebf09ed6e7f86f52ef69e1f8e8612
For more information on Thecus, go to: http://www.thecus.com
---
About Thecus
Thecus® Technology Corp. specializes in IP Storage Server solutions. The company was established in 2004 with the mission to make technology as transparent and easy-to-use as possible, and to make products that are not only the best on the market, but are accessible to experts and novices alike. With a best-in-class R&D team highly experienced in storage hardware and software and with a keen customer focus, Thecus® stays close to the market to develop high-quality products to fulfill the storage needs of today's world.
For more information, please visit the Thecus® website at: http://www.thecus.com
For sales and other inquiries, please contact us via email: sales@thecus.com