For sales inquiries,
please contact us at:


sales@thecus.com
For marketing inquiries, please contact us at:


marketing@thecus.com
2009-06-18
Thecus® Recommends Applying Enterprise Hard Drive Disks On Thecus® iSCSI Series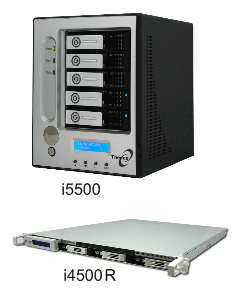 06/18/2009 - Aiming at enterprise and small & medium business environment, Thecus® has been known to deliver stable storage device with unparallel performance and data security. Other than innovation in NAS technology, Thecus® again rocks the storage world with the powerful iSCSI storage series, the i4500R and i5500, which deliver unbeatable value proposition for enterprises looking to store and secure valuable data. Thecus® recommends users to utilize enterprise level hard drive disk products with iSCSI series to deliver perfect solution for high-capacity enterprise storage applications, access of mission-critical data. For unparalleled reliability plus best-in-class performance and power-saving mechanism, Thecus® iSCSI series with enterprise HDD is the best dual in office application environment.
---
About Thecus
®
Thecus® Technology Corp. specializes in IP Storage Server solutions, including Network Attached Storage (
NAS
) , DAS, External Storage and Wireless Media
NAS
(Bank ) products. The company was established in 2004 with the mission to make technology as transparent and easy-to-use as possible, and to make products that are not only the best on the market, but are accessible to experts and novices alike. With a best-in-class R&D team highly experienced in storage hardware and Linux software and with a keen customer focus, Thecus® stays close to the market to develop high-quality products to fulfill the storage Server needs of today's world.
For sales inquiries, please contact us via email:
sales@thecus.com
For marketing inquiries, please contact us via email:
marketing@thecus.com