For sales inquiries,
please contact us at:


sales@thecus.com
For marketing inquiries, please contact us at:


marketing@thecus.com
2009-06-15
06/15/2009 -The storage industry is an ever evolving market as users' needs are constantly changing. Over the years, Thecus® has put a lot of effort in market research and utilizing cutting-edge technology to develop innovated and customer-oriented NAS product to satisfy all needs. Announcing several break-through "INDUSTRY FIRST", Thecus® leads the technology for storage and always exceeds market's expectations.
Two years ago, when the entire storage market was focusing on 1, 2 and 4 bay NAS, Thecus® decided to take an unprecedented approach by developing world's first 5 bay NAS, the N5200 series. The market responded extremely well to the N5200 series and it was a huge success for Thecus®.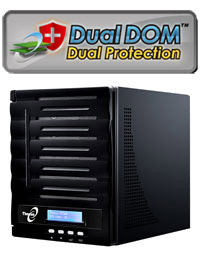 (This June, Thecus® is launching the next generation of 5-bay NAS, Thecus® N5500.) This breakthrough delivered excellent storage choice for both power users and enterprises, also being the first to introduce several innovative functions: NAS/DAS/iSCSI three-in-one, stackable with iSCSI, multiple RAID, and announcing the most advanced Dual- DOM™ technology at Computex 2009. The unique DAS & iSCSI on NAS design brings flexible usage on storage, Thecus' latest technology With simple configuration, via USB and iSCSI protocol, Thecus® enterprise series instantly becomes direct attached storage for single client storage usage and convenient expansion mechanism, using the one and only multiple RAID feature, users can create a combination of different RAID volumes on one NAS system for various storage needs. At Computex 2009, Thecus demonstrated to storage market with the breakthrough Dual-DOM™ technology. With an extra DOM, users no longer have to worry about system downtime due to unexpected system failure, double the protection and reliability for enterprise environment.

In this year's Computex, Thecus® also showcased to the world with its latest N0503 ComboNAS™. This ComboNAS™ features a special combo hard disk tray design; users can literally use five 2.5" hard disks or three 3.5" hard disks on this ComboNAS™.
Throughout the years, Thecus® had come up with many design initiatives and breakthrough in technology which had again and again revolutionized the storage market. Looking forward, Thecus® engineering team will continue to develop more "IT Friendly" NAS products and provide consumers with affordable and easy-to-use storage solutions. Without a doubt, Thecus® is the true creator in storage.
* DOM: Disk on Module, a flash drive where firmware and setting are installed
---
About Thecus
®
Thecus® Technology Corp. specializes in IP Storage Server solutions, including Network Attached Storage (
NAS
) , DAS, External Storage and Wireless Media
NAS
(Bank ) products. The company was established in 2004 with the mission to make technology as transparent and easy-to-use as possible, and to make products that are not only the best on the market, but are accessible to experts and novices alike. With a best-in-class R&D team highly experienced in storage hardware and Linux software and with a keen customer focus, Thecus® stays close to the market to develop high-quality products to fulfill the storage Server needs of today's world.
For sales inquiries, please contact us via email:
sales@thecus.com
For marketing inquiries, please contact us via email:
marketing@thecus.com