For sales inquiries,
please contact us at:


sales@thecus.com
For marketing inquiries, please contact us at:


marketing@thecus.com
2009-06-10
Multimedia mogul scores high marks for quality and features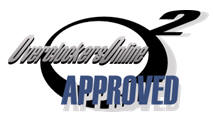 06/10/2009 – The NAS market may be crowded, but if you're looking for a NAS unit that not only has the right number of features, and is also built to last, the N3200PRO from Thecus® is a tough choice to beat. Recently, the editors of Overclockers Online took the N3200PRO into their test labs, and after testing it, found that it lived up to the hype and awarded it their Overclockers Online Approved Award!
The N3200PRO features the same quality and care that goes into every Thecus® product: "One thing I have become quite fond of is the ease of disassembly with Thecus products. Taking apart a Thecus NAS unit is quite like taking apart a typical computer system. On the hardware side of things, like always Thecus has done a superb job. The system can be taken apart and put back together in minutes; however it is unlikely that users will need to do so. Even so, Thecus has taken the effort and put an incredible amount of detail into the assembly."
In terms of features, the N3200PRO is fully loaded: "As we discussed in the features section, this is a unit packed to the top with features. As one can expect, the web interface is comprehensive...For Media Server capable devices, the N3200PRO is capable as acting as a stand- alone media streaming server for UPnP AV or DLNA compliant devices. The N3200PRO can also act as an iTunes server, print server, and web cam streaming server. Another nice feature is the download manager which is capable of automatically downloading either HTTP, FTP or Bit Torrent files. The N3200PRO in short does everything except for washing your dishes."
Advantages
Flexible
Affordable RAID 5 solution
Perfect for the digitalized home
The conclusion? "The N3200PRO shares the same features as the more expensive N4100PRO and N5200PRO, and not to mention the built in iTunes, print and media server are a great addition. For a large household with an incline towards digital media the N3200PRO NAS could definitely come in handy."
For the full review, go to:
http://www.overclockersonline.net/index.php?page=articles&num=2801
For more information on the N3200PRO, check out:
http://www.thecus.com/products_over.php?cid=12&pid=89&set_language=english
---
About Thecus
®
Thecus® Technology Corp. specializes in IP Storage Server solutions, including Network Attached Storage (
NAS
) , DAS, External Storage and Wireless Media
NAS
(Bank ) products. The company was established in 2004 with the mission to make technology as transparent and easy-to-use as possible, and to make products that are not only the best on the market, but are accessible to experts and novices alike. With a best-in-class R&D team highly experienced in storage hardware and Linux software and with a keen customer focus, Thecus® stays close to the market to develop high-quality products to fulfill the storage Server needs of today's world.
For sales inquiries, please contact us via email:
sales@thecus.com
For marketing inquiries, please contact us via email:
marketing@thecus.com