For sales inquiries,
please contact us at:


sales@thecus.com
For marketing inquiries, please contact us at:


marketing@thecus.com
2005-10-25
Participants experience the power and flexibility of Thecus NAS storage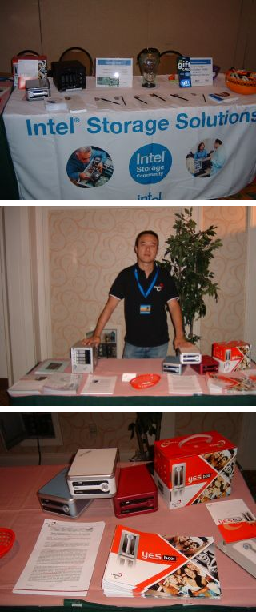 10/25/2005 – The Intel Channel Conference is a series of regional roadshows that invite various white box resellers and integrators to participate. In the US, approximately 10,000 Intel Premier Providers and Genuine Intel Dealers attend these shows. Intel takes users beyond products to show fresh applications and opportunities for mobile, desktop and server platforms. This year, Thecus Technology was there in full force to display its network storage solutions, including the enterprise-class N4100, and the versatile YES Box N2100.
Based on Intel's I/O processor architecture, the N4100 is designed to offer larger storage space, better data security, higher data access throughput, but with lower power consumption. The N4100 can operate as a secure file server, enabling you to distribute your data in a secure fashion. Four SATA drive bays offer excellent expandability, while dual Gigabit Ethernet ports high data throughput enterprise users need.
The YES Box N2100 uses the Intel 80219 Processor to great effect. Based on Intel XScale® Technology, the Intel 80219 Processor powers the YES Box N2100 with a 64-bit PCI-X interface, and an internal bus of 200MHz for up to 1.6 GB/s bandwidth. Add to that features such as two 3.5" SATA drive bays, dual Gigabit Ethernet, 2 USB 2.0 ports, RAID capability, and an intuitive web-based interface, and the YES Box N2100 is a compelling solution for both the home and office.
For more information on the Intel Channel Conference, go to: http://intel.seminars.net/iccna/
For more information on Thecus, go to: http://www.thecus.com/

---
About Thecus
Thecus® Technology Corp. specializes in IP Storage Server solutions. The company was established in 2004 with the mission to make technology as transparent and easy-to-use as possible, and to make products that are not only the best on the market, but are accessible to experts and novices alike. With a best-in-class R&D team highly experienced in storage hardware and software and with a keen customer focus, Thecus® stays close to the market to develop high-quality products to fulfill the storage needs of today's world.
For more information, please visit the Thecus® website at: http://www.thecus.com
For sales and other inquiries, please contact us via email: sales@thecus.com