Dual Power for Untouchable Data Integrity
Sudden power failures can spell trouble for your data. If the power goes out during a firmware upgrade, your entire system could be at risk. The N4200 features a unique Mini-UPS, it allows the system to save all unwritten data into hard disks during power outage, ensuring both data and system integrity at all times.

Unique Dual DOM Design for OS Redundancy
A Disk On Module (DOM) contains all of the system's critical software. If it stops working for any reason, your system firmware could be inaccessible - or worse. With Thecus®' unique Dual DOM (OS Redundancy) design, a secondary DOM automatically reprograms the primary DOM if it fails, meaning your data is always safe and accessible.

Easy Administration with Dual Displays
Featuring two separate displays, the N4200 is incredibly friendly to use. The LCD displays critical system information, including hard disk and network status, while the OLED allows you to change a number of different system settings, such as WAN, LAN, Link Aggregation, languages and more.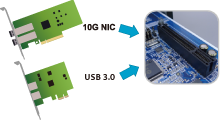 Unlimited Expansion Possibilities with PCI-e Slot
Thecus NAS products are ready for a number of emerging technologies. Through the built in PCI-e slot, business users can add a 10G Ethernet Adaptor for lighting fast transfer speeds, or a USB 3.0 Adaptor Card to enjoy next-generation connectivity.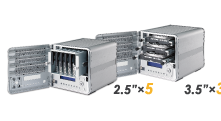 Dual HDD Profile Support for Added Flexibility
Thecus' unique combo SATA hard disk bays allow users to use either 2.5" or 3.5" SATA hard disks. Choose 2.5" drives for lower power consumption and quieter operation, or 3.5" drives for extra capacity and performance.
The N0503 ComboNAS from Thecus offers even greater flexibility. It is world's first NAS equipped with these special combo hard disk bays, making it possible to support up to five 2.5" hard disks or three 3.5" hard disks.
SAS HDD Support for Ultra Fast Data Throughput
High performance SAS (Serial Attached SCSI) hard drives are currently capable of delivering transfer speeds of up to 6 Gbit/s and 15000 RPM. SAS hard drives are also reliable and stable, making them the ideal hard drives for NAS servers.
Thecus N7700SAS and N8800SAS NAS servers are both compatible with SAS (Serial Attached SCSI) hard drives, delivering superior data throughput. Under multiple client access, users can still enjoy quick system response and blazing fast file transfer speeds.